International Green Tourism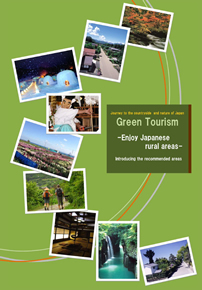 International Green Tourism
JTB Tourism Research & Consulting Co. has attempted to accelerate "International Green Tourism" on behalf of the Ministry of Agriculture, Forestry and Fisheries.
Published :

Mar,2013
Abstract
Download other languages↓
 >> Simplified Chinese character
 >> Traditional Chinese character
 >> Korean


This project aims to develop rural areas by promoting tourism resources that originally existed in those areas.
As part of the efforts, we have created guidebooks to inform several rural destinations listed below. The guidebooks are translated into English, Chinese and Korean, can be downloaded by the PDF file.
The list of destinations
Aomori
Minakami-Town, Gunma
Minamibousou-City, Chiba
Iiyama-City, Nagano
Noto-Town, Ishikawa
Tanabe-City, Wakayama
Iki-city, Nagasaki
Gokase-Town, Miyazaki
Izumi-City, Kagoshima