Newsletters
Sign up to receive email newsletters from JTB Tourism Research and Consulting reporting Co. latest tourism statistics and insights. We send our newsletters approximately once a month.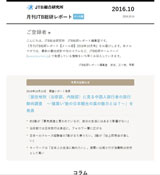 Frequency

Monthly


*An extra edition of the newsletter may be received to you occasionally.
Price

Free
Format

HTML Form
Get Updates by Newsletter
Sign up to receive our monthly email newsletters.
Sign Up now
Change My Information
Click here, If you'd like to change the email address and more.
Unsubscribe
Click here, if you would like to unsubscribe our newsletter from this email.
If you are an EEA resident, please be sure to read the following "Privacy Notice(For EEA residents)" before registration.