Women in 40s Purchase More Luxury Brand Items: Japanese Overseas Travelers' Shopping Trends (Part 2)
Japanese in their forties are active in shopping. What do they purchase while traveling overseas, and what influence their choice of shopping venues? A joint survey with Tax Free World Association (TFWA) reveals the recent trends of luxury brand shopping by Japanese in their forties at overseas travel destinations.
Yoko Hayano Senior Consultant
Fashion items such as bags, leather goods, shoes and clothes are the most commonly owned luxury brand items for the Japanese. The survey result shows that women in their forties are more likely to purchase fashion items than other age groups during their overseas trip.
One of the characteristics of this age group's shopping behavior is that they buy luxury branded items for themselves rather than as gift to someone. The survey reveals that more than a half of female respondents aged 40 – 49 years purchased some kind of branded fashion products for themselves while traveling internationally.
In their choice of premium branded items, their priority is based on whether the product is from a well-known brand and that the items are NOT reasonably priced. In other words, women in their forties are likely to purchase fashion products from brands that are easily recognized by others as 'luxury brands'.
*Dissatisfied with Product Lineups at Duty Free Stores
Then, where do Japanese travelers in their forties make their purchases of branded items? The survey result also shows that they visit duty-free stores more frequently than other age groups. However, they are less satisfied with product line-ups and the atmosphere of duty free stores. To many travelers in this age group, 'good prices' may not always be an advantage for the retail operator. 'Good prices' on luxury branded items offered by duty free stores may appear to them a sign of depreciation of the brand value. Instead, quite a few of them prefer to shop at high street individual brand boutiques in favor of better lineups, atmosphere and authenticity of the international premium brand.
Many Japanese overseas travelers in their forties would rather buy items at the main store of the brand where the brand originated. They tend to put great importance on being recognized by people around them for having purchased items from luxury brands. Having such psychological factors related to brand shopping activity in mind, one may conclude that shopping luxury branded items means far more than just purchasing something upscale for Japanese overseas travelers in their 40s; What matters most is to "feel the brand itself", including the brand's history and store atmosphere. They want to make the most of the entire shopping experience richly related to the brand.
In order to attract Japanese overseas travelers in their forties, it is quite important for travel retail operators to design their venues so that Japanese customers can enjoy the whole process of shopping, who would later enjoy sharing all the stories related to shopping to others after they return home.
"Japanese Overseas Travelers' Shopping Trends"
Conducted in July 2007 and January 2008 (twice a year)
Survey objects
Japanese male and female aged 20-69 who had traveled abroad within the following periods (January-June, July-December 2007)
Number of valid samples
1000 in total by two survey periods
Methodology
Internet survey
*The survey result is scheduled to be published soon as "Trends and Behavior of Japanese International Travelers".
Purchase of Branded Fasion Goods During the Most Recent Trip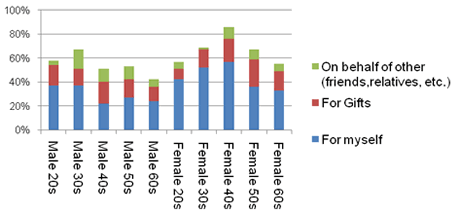 The brand/product is popular among my friends/family/relatives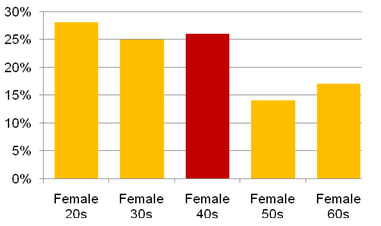 The price is affordable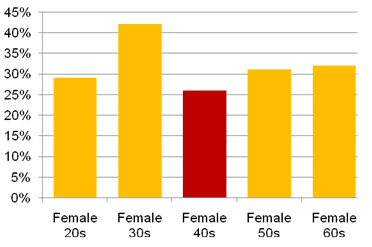 Stop at Duty -free Stores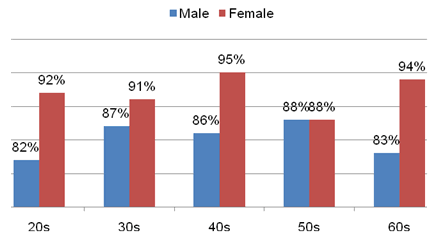 Reason for shopping at non-duty-free stores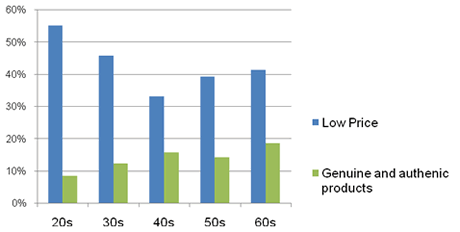 I would like to purchase luxury brands from the original brand store