Take a breather from mood for saving -Women enjoy shopping overseas by taking advantage of the strong yen
JTM conducted a survey on shopping overseas, covering 520 people who went abroad from March to September 2010. In comparison with the previous study done in 2009, when the financial crisis hit the global economies, the survey has revealed how Japanese travelers feel about spending and actually go shopping overseas.
Yoko Hayano Senior Consultant
Still Conscious of Saving, Japanese Are Willing to Spend on What They Like.
Our 2009 survey showed that the global crisis seriously affected Japanese people in their 40s, whose spending had remained relatively strong even amid a stagnant consumption in the Japanese economy.
One year after the previous survey, even though household income has not improved yet, we see a slight sign of improvement in consumers' desire for spending on what they really like to have or do, while managing to make both ends meet.(45.1% of the respondents experienced a decrease in their annual income last year, among whom 3.8% managed to spent more on luxurious goods or leisure activities and 2.9% spent more on commodities. In total, 15% of those whose income dropped managed to spend more on their consumption.)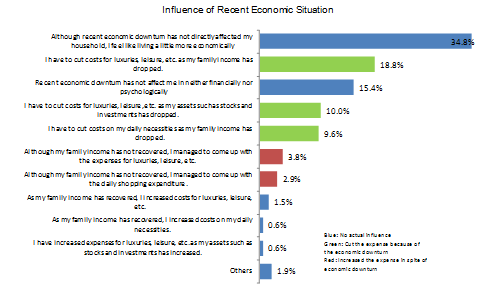 The Strong Yen Pushed Up the Purchases of Premium Branded Goods by Japanese Overseas Travelers
It is "the strong yen" that served as a trigger to shopping overseas. The strong yen encouraged Japanese travelers to enjoy shopping abroad. The survey results show that the average amount of money spent on shopping overseas was smaller than last year. But the study also shows that the Japanese international travelers purchased luxury branded items more frequently in many product categories.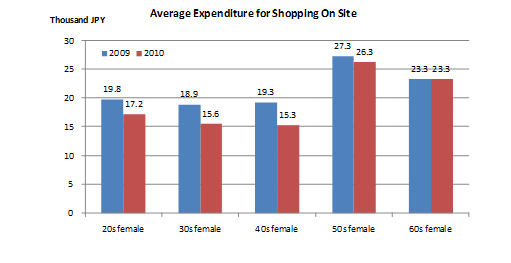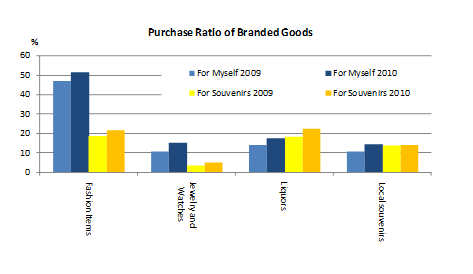 Shopping is an Indispensable Element for Female Overseas Travelers
"What is 'overseas shopping' for you?" The respondents were asked to write any words or phrases that came to their mind. When displayed in relevance chart, the survey result clearly indicates a significant difference in the meaning of overseas shopping' between men and women.
Most male respondents regard shopping as a mere process for "getting" souvenirs to friends while a limited number of them had a special meaning in shopping. On the other hand, female respondents view overseas shopping as a special experience represented by words such as "a reward for themselves", "get rid of stress", "a good memento" and "a part of travel experience". Furthermore, men buy something for someone else as a gift or a souvenir while women tend to enjoy shopping for themselves.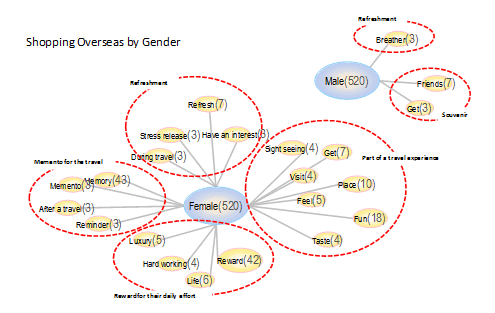 Japanese Travelers Expect Duty Free Stores to Have a Good Selection of Items that You Can Buy Only in this Destination.
Since one of the meanings of shopping overseas is getting "a good memento of trip", travelers are eager to buy specialties of the destination at duty free stores or local shopping venues. Now that items from global brands are easily available through the Internet or at brand outlets in Japan, duty free shops are expected to have a selection of goods otherwise unavailable and souvenirs which remind people of the travel experience.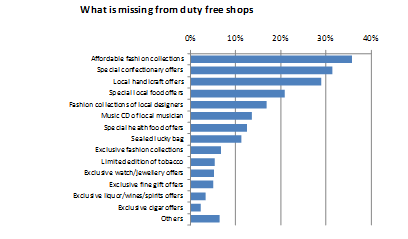 The 2010 survey shows that household economy has not seen a silver lining yet, and that smart consumers try to enjoy their life by taking opportunities such as the strong yen even under a difficult situation. It also clearly indicates that shopping is an essential element of overseas travel especially for women. Duty Free Stores are yet to satisfy their needs as they are expected. Almost all travelers drop in at airport tax free shops. They will generate greater delight to international travel shoppers if they are successful in offering selection of goods that better meet the needs of female travelers.
The outline of overseas shopping survey
Period:September 20th -29th 2009/September 24th -29th 2010
Subjects:Men and women in their 20s-80s living in Japan, who traveled abroad within the last seven months
The number of collected valid questionnaires:520/520 1,040 in total
Survey contents:the latest travel destination, shopping costs, place for shopping, purchased brand-name goods, attitude toward travel and others