How does the Expansion of International Operation at Haneda Airport Influence the Regional Travel Market?
Tokyo-Haneda Airport had mainly served domestic flights and a limited number of international charter flights since the opening of Narita International Airport in 1983. In October 2010, Haneda resumed international scheduled flight operation thanks to the expanded capacity with an additional runway and the new international terminal. It is, needless to say, good news for international travelers who live in the country's Metropolitan area. How, then, does the expansion of international operation at Haneda influence the traveling behavior and attitude of those who live in the local regions of Japan?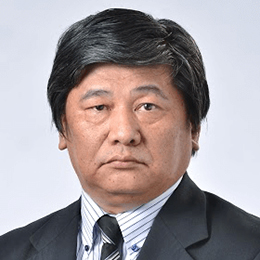 Yasushi Tanaka Columnist
In September 2010, JTB conducted a survey on people's attitude toward overseas travel after the expansion of international operation at Haneda Airport. Respondents were recruited among residents living in "local areas" as well as "the Tokyo metropolitan area" for comparison.
The locals prefer domestic destination to overseas
The survey respondents were asked to choose up to three destinations they would like to visit from a list of overseas and domestic destinations, assuming that the tour prices are the same regardless of the destination. The most preferred destination was Hokkaido for both residents of Metropolitan area and local areas, followed by Okinawa and Hawaii. The list after Okinawa differed between metropolitan residents and local residents. The locals were more likely to choose domestic destinations to overseas. (See Chart 1)
The survey result also shows a significant difference in the preferred destinations between frequent overseas travelers and inexperienced travelers. 40.7% of frequent travelers chose Hawaii and nearly 30% picked Southeast Asia. On the other hand, the choices of destinations among those who have never traveled abroad were mostly domestic destinations topped by Hokkaido, Okinawa and Kyoto-Osaka.
It implies that local residents, who are less experienced in overseas travel than city dwellers in general, are less likely to choose overseas destinations.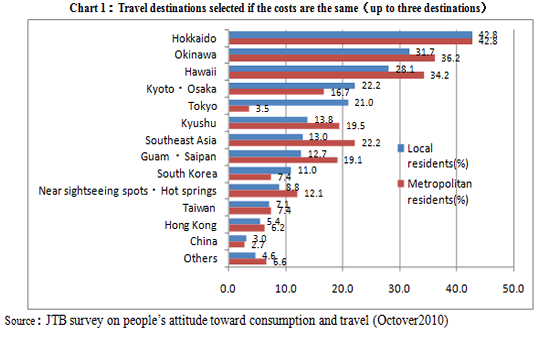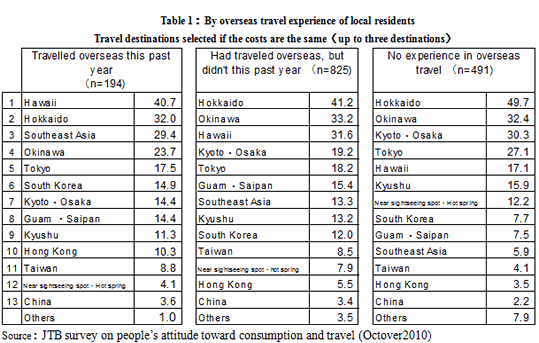 Overseas travel is something special for less experienced overseas travelers
50% of respondents living in "local areas" find 'high price' a discouraging factor for overseas travel.
The access to the international airport is another factor that discourages people to travel internationally. One third of the respondents in local regions chose 'long travel time' an obstacle to the overseas travel. Some 20% of them find an overnight stay at the departing International Airport because of inconvenient connection between domestic and the international flights make them reluctant to travel overseas.
For those who had no experience in overseas travel, major reasons for their reluctance to go abroad were: "Concern for foreign languages" (48.5%), "feel more comfortable in domestic travel" (30.3%), "unfamiliar foods" (22.2%) and "lack of interest to go abroad" (29.9%).
The survey result indicates that overseas travel is more expensive, special and less easy to participate than domestic travel for local residents who have never been abroad.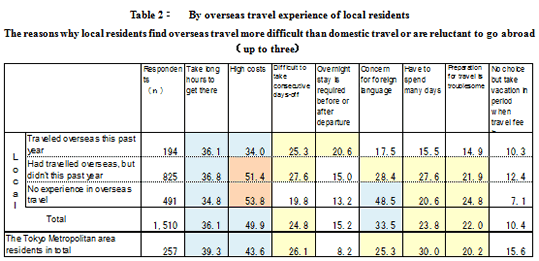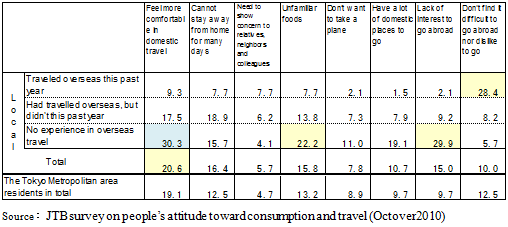 Poor access to the international destinations from local regions
A majority of the overseas travelers in local regions used connection flights or other means of transportation to get to the international airport, such as Narita, where they catch the flight to the overseas destination. Only 24% of them used direct flights, scheduled and charter, to their overseas destinations.
A limited number of overseas destinations are directly served by flights from local airports. As a result, they have to change planes or travel by land transportation. It takes them much more time and energy to reach the overseas destination than international travelers who live in metropolitan area and enjoy an easy access to the international airport.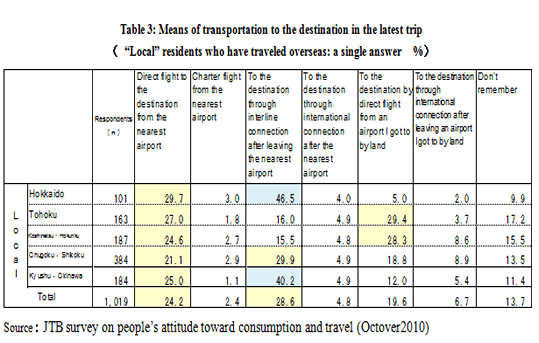 Expectation for international flights from/to Haneda
The respondents were asked about their intention to use international flights from/to Haneda. 63% of Metropolitan residents showed their intention to use Haneda flights, while 25% of the local residents want to use Haneda as an international gateway. Among the local residents, 41% of experienced travelers showed interest in using flights from/to Haneda because of the convenience. Meanwhile, 34% of experienced travelers in local region answered that they are willing to use flights from/to Haneda if it is less expensive to go to Haneda than other international airports.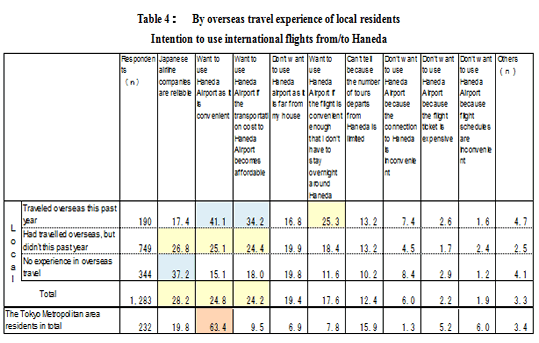 Departure/arrival time is an issue.
Long and middle-haul international fights are only permitted to depart and arrive during mid-night time; between 10:00 p.m. and 7:00 a.m. For those who live in metropolitan area, night flights are not a big problem; it rather gives an opportunity for new travel style. They can go to the airport after work to board a mid-night flight for a holiday in an overseas resort, and arrive in the morning early enough to go to work after taking shower at home. Some flights arrive late in the evening, still in time for the last train home.
However, for travelers who live in local regions, arriving at Haneda late in the evening means they need to stay overnight to catch a day flight back to their home airport. This is why 25% of experienced travelers who live in local community answered they would use international flights from/to Haneda only if there is no need to stay overnight for transit at Haneda.
Conclusion
The expansion of international operation at Haneda has opened up new travel opportunities for people who live in local regions and have suffered from the inconvenient access to overseas destinations. Travel cost and convenient domestic/international connection at Haneda should be the key factors to further encourage the locals to travel overseas.
Departure ratio (number of international departure over the population) is much lower in local regions than in Metropolitan area. In other words, the potential of local market is enormous if travel industry succeeds in convincing the local residents that the overseas travel is easier and less expensive than they think if they make good.