Recent Trend of "Saving", "Benefit" Is The Indulgence in Consumption ~Story 2: Consumption of Those Who Have Not Been Straitened~
In "Story 1", we raised the following issue: despite the saving trend today, not all people have been financially straitened, but those people reducing private consumption may magnify the recession at the moment. The following story will examine those people who have not been straitened, not affected by recent recession.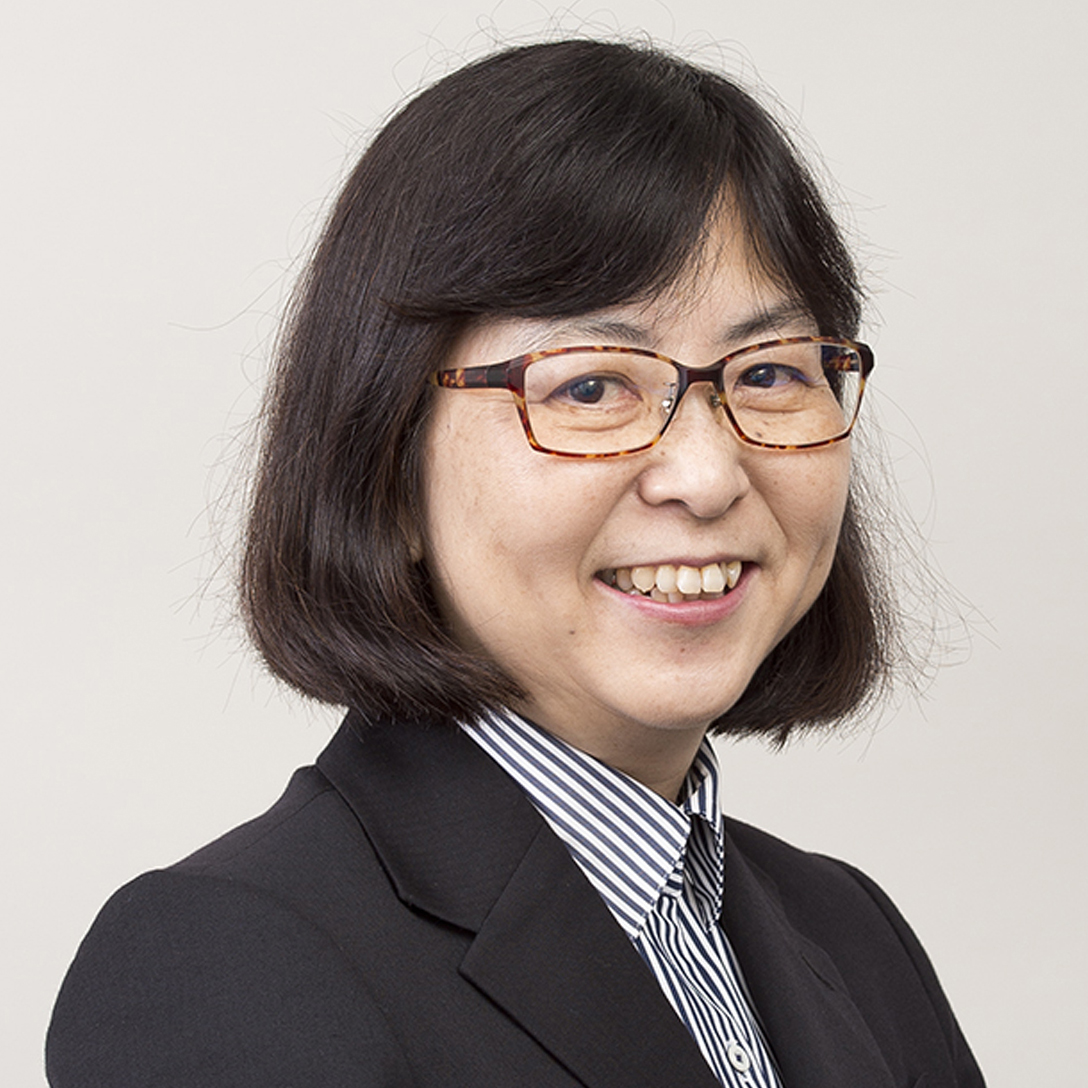 Keiko Wakahara Columnist
Story-2
More than half of Japanese feel financially straitened, on the other hand, there are group of people who are not affected by recent economic recession, who do not feel their lives have been straitened.According to "Consumption Mood Survey" conducted by Dentsu Communication Institute (Fig. 2), many consumers "sometimes save, occasionally spend."  While the macroeconomic figures such as GDP and stock market decline, majority of consumers are "sometimes conscious of saving (44.7%)" and "occasionally spend for little luxury (39.6%)."
Although "saving" and "shrinking personal consumption" are everyday topics in the mass-media, this survey probably represents the feeling of the majority, who are not necessarily leading hard lives.
The top 3 of those "little luxury" are "travel (33.9%)", "dining out (26.2%)" and "food (21.6%)." Sales of those services and items all decline form the macroeconomic view, thus we must look carefully about what "occasionally" means. In fact, "Occasionally" means less frequently than the same word meant before. The lowered frequency of "occasional" consumption leads to decline in the number of customers and the sales. Business enterprises lower the price of their products to attract customers, only to find themselves in dwindling of business. Such negative spirals occur in various industries.
Also, people with higher annual income tend to answer that the degree of saving did not change compared with a year before. People with high annual income and large financial assets are considered to be some of those who have not been straitened.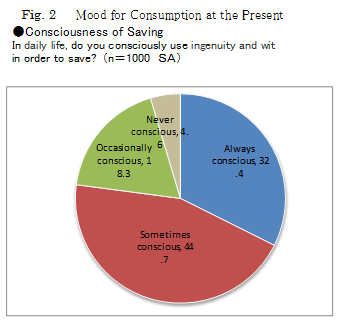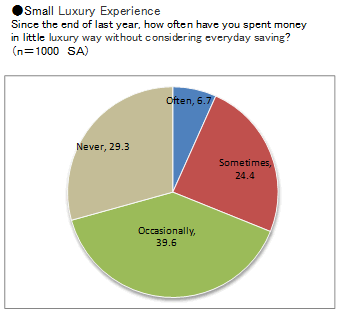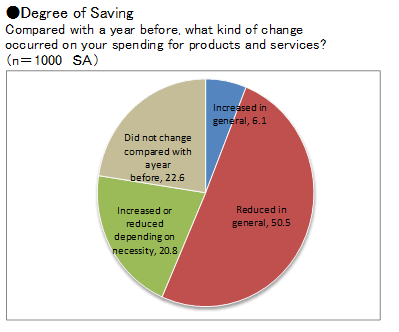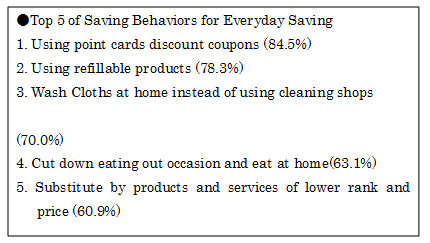 ●Degree of Saving According to Annual Income
In a survey that Hakuhodo Inc. conducted targeting 500 male and female with annual income over 15 million yen in December 2008, nearly 70% of the wealthy claimed that their assets have been damaged. However, their answers show that both the household income and the allowance "have not changed since last year" (80%) and "will not change in next 6 months" (70%) Decline in the macroeconomic figures might have been smaller if their consumption behaviors remained the same as before. The fact is, however, even those economically well off have become less active in spending (40%) and save money once in a while.
In 2007, 903,000 households in Japan were considered to be the 'wealthy', possessing NET financial assets worth 100 million yen or more, and their number is growing every year (according to Nomura Research Institute as of October 2008.) This figure is twice as large as the number of NEET (young people Not in Education, Employment or Training). In general, their personal assets have been damaged by the stock market decline following the subprime loan crisis, some of them, however, have even increased the value of their assets. They are still active in consumption (according to a survey conducted by Abraham Group Holdings which manages YUKASEE- a private club designated to the wealthy layer).
The Japanese Cabinet Office announced that personal financial assets dropped to 1,503.6 trillion yen in 2007, a 4.0% decrease from the previous year. People aged 60 and older own more than one half of the total private financial assets (54.4% as of 2004, calculated by Dai-ichi Life Research Institute), and this age group tend to have a larger share of the personal assets. Both the pensioners and the wealthy layer, unless suffered a heavy loss on the stock market or on investment funds, may well be leading even more comfortable life at the present because the market is full of reasonably and low priced products.
How to encourage the elders to spend their money from their large assets in personal consumption has always been a big issue. Yoshiyasu Ono, Professor, Osaka University points out that "excessive saving like a miser", is one of the factors causing depression. After losing interest in consumption and having nothing they want to buy, people tend to turn their interest in saving money, which make them feel happy above all purchase of goods and services. This trend further depresses economic growth.
In slow economy, the mass media tend to emphasize the 'saving' to show their concern for financially straitened people, which discourages luxurious consumption. It also generates an atmosphere that luxurious spending is imprudent in today's difficult time. Some may feel uncomfortable going on an overseas trip or purchasing a new car when they think of neighbors and relatives who just got laid off. In such a climate, "eco" and "saving" are likely to be an indulgence for spending money.
Various shopping behaviors are observed today; for example "purchasing rather expensive items to make the stay at home more comfortable instead of going away", "buying 5 items for 10 thousand yen at the 'fast fashion stores' such as H&M and Forever 21", and "driving all the way to an "outlet mall" located in the suburbs to buy luxury brand products at low prices". These shopping trends all appear to be related to the consumers' attitudes to control consumption. However, one can also see them as good excuses for those who are yearning for consumption to open their wallets? In other words, these are catalysts for consuming action, thus it is important for the market to figure out how to motivate consumers to spend their spared money.
Survey of Consumer Behavior and Household Economy Consumption Index form this March and April started to indicate that private consumption is heading for recovery.
We also need to pay attention to the fact that one out of seven companies in Japan have increased both in sales and profit during the recent year ended March 2009. A cut down on summer bonus among the manufacturing industry made the headline, but cut down is smaller in other industries. Some domestic demand-oriented industries, such as communication and power, even increased bonus; we should not conclude that all Japanese companies are at the bottom.
It may take a while before the economy recovers. It is time for both the government and the media to appeal the importance of domestic consumption to the people who are unwilling to spend much money. Reassure them that positive attitudes toward consumption will stimulate the slow economy and eventually improve their household finance.