No particular reason but feeling like saving money -A vague anxiety about future and a sense of social stagnation may affect consumer sentiment: It may affect Japanese travel and buying behavior.
There is little sign of recovery from the current slugging consumption on the horizon. According to the Current Survey of Commerce compiled by Ministry of Economy, Trade and Industry, the sales of large scale retailers has fallen for 19 months in a row and particularly the sales of department stores has continued to tumble by more than 10% on a year-on year basis over the last 6 months. How does the current economic downturn have an impact on consumer behavior including travel?
Yoko Hayano Senior Consultant
More than 80% of respondents have been affected by the current economic downturn: 40% substantially affected while more than 40% psychologically affected
JTM conducted "Overseas Shopping Survey" in September 2009. In the survey, respondents were asked whether the current economic slump started in the late 2008 has made an impact on their household. . About 45% of respondents answered that their family budget suffered a decline because of a fall in income or financial asset value while 55% answered they have been little affected. In the meantime, however, more than 40% responded that they are just inclined to tighten their belts in spite of no actual damage. The fact indicates that the economic crisis had a large psychological impact on Japanese consumer.
People in their 40's and 50's suffer from a drop in annual income
Looking at by age bracket, the younger generation tends to be more psychologically affected than actually they were. On the other hand, the economic slowdown had an actual impact on people in their 40's and 50's, about 40% of whom responded that the annual income had dropped.
When we look at the average amount of money spent on shopping overseas, travelers in their 40's and 50's cut down the expenses more than any other age bracket, in fact.
Amid the global financial crisis, the corporate sector has suffered a decline in performance, and thus workers' bonuses and monthly salaries have been reduced. Furthermore, businesses have carried out various types of employment adjustment such as cutting workforce, ordering employees to take unpaid leaves and introducing work-sharing scheme. Due to the measures, households have experienced a decrease in income, which lead to a decline in shopping expenditure by Japanese overseas travelers.
People in their 40's have been less affected by the stagnation of Japanese economy than other generation and remained active travelers until late 2008. They will, however, slow down their traveling activities because of the reduced income coupled with the gradually increasing educational expenses for their children.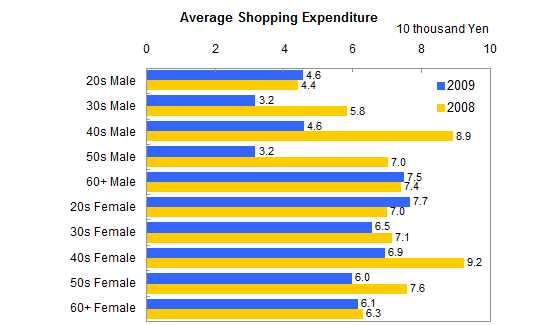 Consumers look for inexpensive package tours to curb travel costs
Now, what kind of impact does it have on travel specifically? The largest number of respondents answered that they look for inexpensive package tours as means to save on travel costs. It accounts for about 50%. Following this was 'to reduce a budget for shopping during the trip'., Travelers who have reduced spending on luxuries or leisure, in particular, tend to save on shopping cost while traveling. The number of people who responded that they shifted from overseas destinations to domestic is less than expected. There is a tendency to postpone overseas travel rather than changing their travel plan to domestic destinations. On the other hand, travelers who had less actual economical damage are likely to change their destinations from long-haul destinations to short-haul. This may be one of the reasons for the recent increase of visitors to South Korea.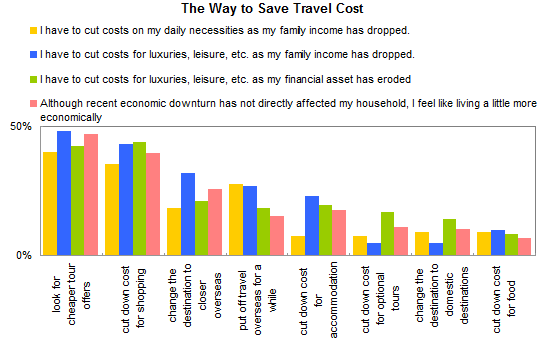 The strong yen, reduction of fuel surcharge and price down of tours encouraged people to travel overseas in 2009
The top three factors facilitating overseas travel that the respondents named were 1) the appreciation of the yen, 2) reduced fuel surcharge and 3) lowered price of package tours. This year, travel agencies offered the tours at lower prices in order to stimulate outbound travel market, which proved to be successful. Some respondents also pointed out that improved conveniences to travel abroad, including tours departing from Tokyo-Haneda Airport and local airports directly to the destination, were triggers to travel abroad. In 2010, an increase in international flights at Tokyo-Haneda Airport is planned, and is expected to motivate people to travel overseas.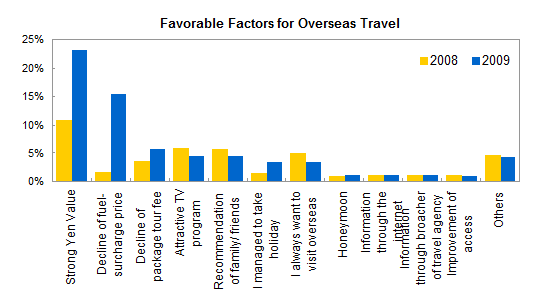 The outline of overseas shopping survey
Period:September 20th -29th, 2009
Respondents:Men and women at the age of 20-89 who have traveled overseas over the last seven months
Valid responses:520
Survey contents: the latest travel destination, a budget for shopping, places to go shopping, brand names whose goods were purchased, attitudes toward travel and so on.