Currency Exchange during Overseas Travel
During the holyday season, a number of travelers line up at the currency exchange counter. How do Japanese travelers get local currency when going abroad? And how much money do they exchange?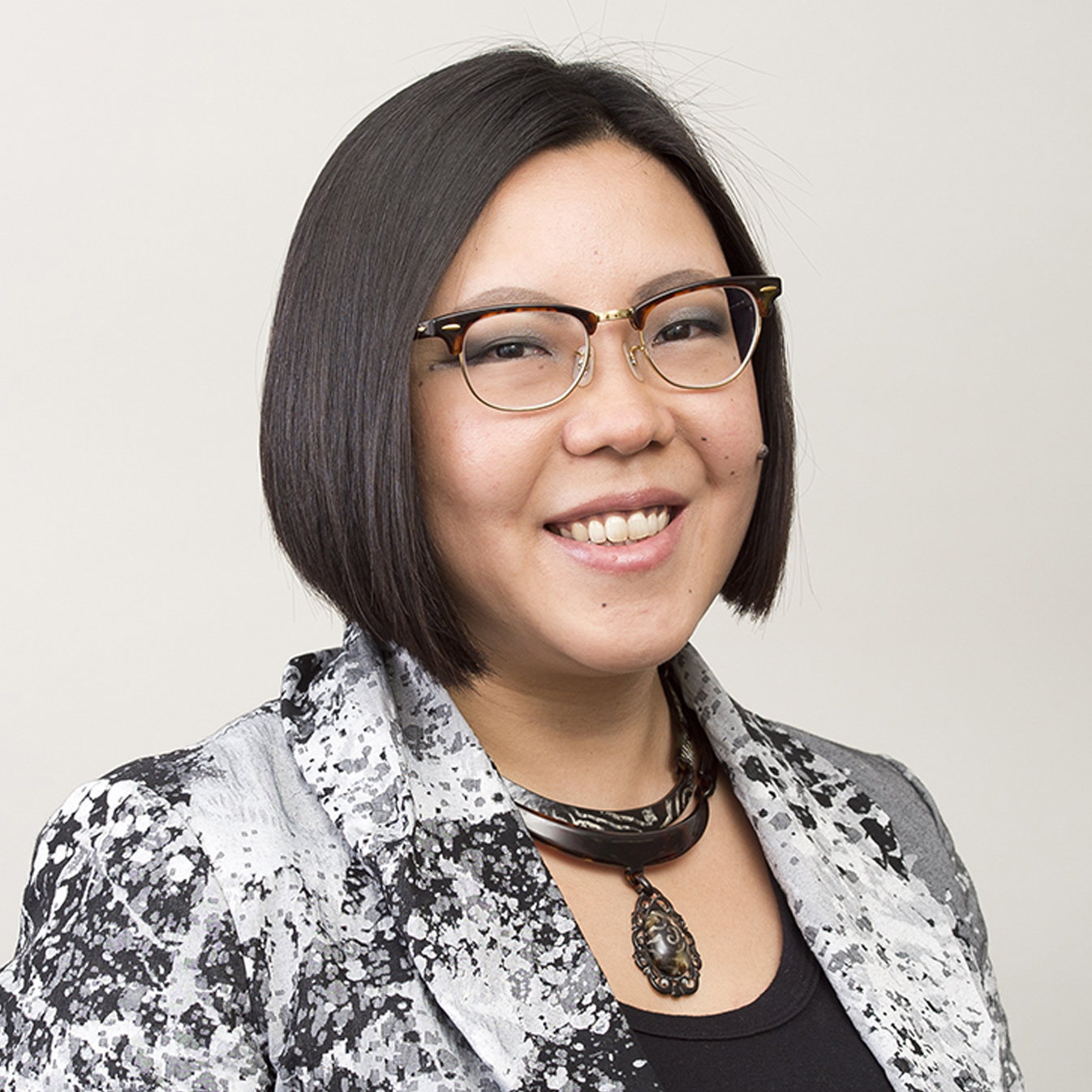 Mayuko Kono Columnist
JTM conducted a web survey to find how the Japanese exchange currency for  overseas travel and how often they use ATM in foreign countries. Chart 1 shows how respondents exchanged money and how much it was on their latest overseas travel. 71.2% of them exchanged yen into cash at home and 54.7% abroad. That means the vast majority prefer to carry cash because money exchange is secure and quick. In the meantime, 16.1% withdrew cash from ATM abroad while 9.0% cashed traveler's checks of foreign currency or Japanese yen in foreign countries.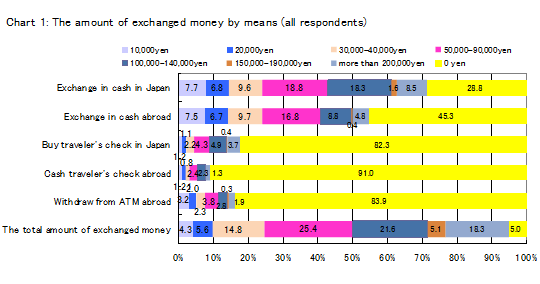 In the case of those who actually exchanged money, the majority exchanged less than 100,000 yen (excluding traveler checks bought in Japan) for one trip. Among those who exchanged yen into foreign cash at home, 26.4% exchanged 50,000-99,999yen and 25.7% exchanged 100,000-149,999yen. (See chart 2.) In contrast, more than 40% of those who withdrew cash from ATM or exchanged cash in their international destination did so up to 49,999 yen. Although the amount of money they exchange differs depending on the duration of travel and prices in the destination country, these figures indicate a tendency for Japanese travelers to get local or major foreign currency to cover the whole trip before they leave Japan. They get additional cash abroad to supplement the expense.
In terms of the total amount of exchanged money by destination, the segment of 50,000-99,999yen is the biggest in travelers who went to Asia. A majority of them exchanged less than 100,000yen while those who exchanged less than 50,000yen accounted for more than 30%. (See chart 3.) A majority of those who traveled to long-haul destinations including Hawaii, the United States and Europe exchanged between 50,000 and 149,999 yen while more than 20% of them exchanged 200,000+ yen.
The respondents were then asked the reasons for the exchange method they chose. "I hardly need cash because I pay by credit card", "I always exchange money this way." and "I only exchange the amount for pocket money before I leave Japan" were the top three reasons. (See chart 4.) These answers indicate that Japanese travelers would rather exchange money in the method they are familiar with no matter where they go. The availability of exchange services, security and prices in the destination are not decisive factors for them to choose exchange methods.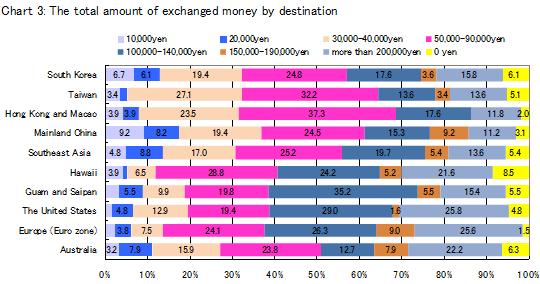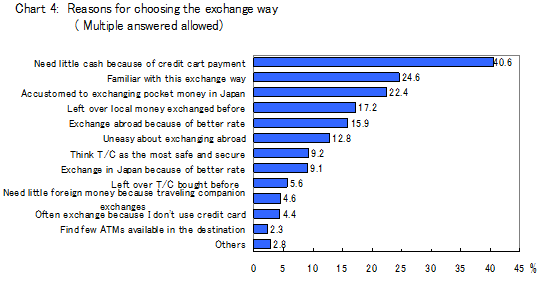 Chart 5 shows the exchange methods chosen by Japanese travelers over the last five years by travel frequency. Bank cards and credit cards are still used to withdraw foreign currency by a limited share of the respondents. It also illustrates that 29.4% of frequent travelers, who travel aboard twice a year or more often, withdraw cash from overseas ATMs while 13.0% of occasional travelers, who travel once a year or less often, do so. Frequent travelers tend to purchase less cash at home and more abroad than occasional travelers. Experienced overseas travelers are more likely to exchange money abroad. Travelers who have not used ATM in foreign countries to exchange money show their concern about difficulty in handling machines and the security when withdrawing money on the streets.(See chart 6.)
Wherever they go, generally speaking, the Japanese have prepared enough cash to cover the expenses during the entire travel before departure or just after the arrival at the destination. They exchange a small amount of money abroad only when they need more cash. This survey found that experienced travelers who know when and where and how they can exchange currency gradually break away from the conventional practice of carrying cash. Indeed, as diverse ways of exchange money are available for travelers, they no longer need to carry a large amount of cash and thus they can reduce the risk. In order to lead Japanese overseas travelers to a new style of using card while having pocket money instead of carrying cash, it is important to wipe out customers' worries about security and language barriers. Credit card firms and travel agents should be key players in providing services such as placing multilingual ATMs abroad as well as distributing handbooks that illustrate how to use ATM in Japanese.