Keys to the success of LCC business in Japan
LCC or Low Cost Carrier is growing rapidly around the world offering very competitive airfares. Japan Airlines and All Nippon Airways have announced their entry into the LCC segment in Japan. Do the LCCs have potential weaknesses in this market ? This article will illustrate the potential causes of failure and the requirements for success for LCC business in Japan through the cases of overseas carriers.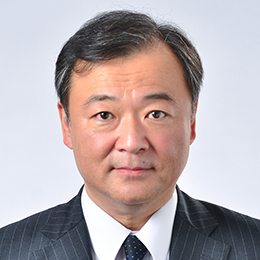 Shoji Nomura
Advent of the LCC business for Japan
LCC stands for low cost carrier: a new type of airline business which provides low airfares through low cost operation. LCCs try to expand the air travel market by offering competitive airfares to price-conscious travelers such as holidaymakers and people visiting their families and friends. In recent years, the LCC business has expanded rapidly in the United States and Europe as a reasonable way of transportation. It makes a sharp contrast with legacy carriers which focus on raising consumer satisfaction by offering millage program, good and attentive ground and inflight services and the global network.
In Japan, Skymark Airlines launched the domestic budget airline business in 1996. The carrier intends to further expand the network and offer even lower airfares while major airlines have announced plans to launch their LCCs.
Following are recent topics of LCC in Japan:
ANA: On February 1st, it unveiled a plan to set up its LCC jointly funded by a Hong Kong investment firm. Touting as the first major LCC in Japan, ANA branded it as "Peach Aviation", which will inaugurate its domestic operation in March 2012.
Skymark: On April 12th, it announced a plan to start the operation of domestic flights from/to Narita on October 30th. It also publicized a promotional fare named "Sky Bargain" to celebrate the new launch, offering 28,880 seats at a price of 980 yen, which attracted enormous attention from the public. Shinichi Nishikubo, President & CEO of the company said, "We will strive to realize the final business model of domestic LCC with the Narita route". He expressed the company would continue to work for even lower airfares.
ANA: On July 21st, it announced the joint establishment of "Air Asia Japan" with Air Asia, a Malaysia based LCC. Adopting a LCC business model of low cost and low price, the new carrier will inaugurate international and domestic flight services based at Narita in August 2012.
JAL: On August 16th, it announced plans to launch "Jetstar Japan" which will start the operation by the end of 2012. The new LCC is jointly invested by JAL, the Qantas Group and Mitsubishi Corporation which leases aircrafts.
While Peach Aviation is based at Kansai International Airport, the other three companies are likely to be based at Narita International Airport, which may accelerate the competition in the Tokyo metropolitan market.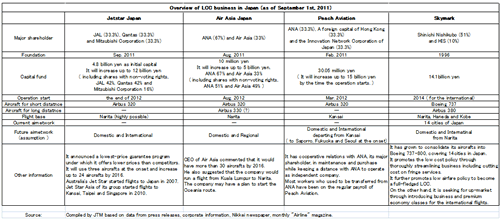 Rationale for traditional major airlines' decision to enter into the LCC business
Why do these traditional major airlines enter into the LCC business? The change in the environment surrounding the aviation industry is likely to be a driver. It used to be very difficult for new entrants to acquire the arrival and departure slots of airports around Metropolitan mega market place because they had been allocated to existing legacy airlines. Recently, however, the number of the landing slots has increased thanks to the improvement of airport infrastructure. Airlines are making their utmost efforts to secure slots while seeking to break ground in the LCC business which is expected to create new demands of cost-conscious consumers by providing low airfares.
Jetstar of Qantas Group is a success case of LCC operated by traditional airline group. The group has adopted so-called "dual brand" strategy with the two brands, Qantas Airways and Jetstar. Each carrier concentrates in the markets and routes where the demands better fit the products, service and fares it offers. Qantas Airways, a network carrier which provides quality service, targets the premium market such as business trip segment and FFP member club, while Jetsar, as an LCC, offers the low airfares to leisure market. The group has been successful in responding to the changing market environment of Japan market avoiding the competition between the two brands in the same target market and air routes. Qantas Airways withdrew from the operation to Kansai International Airport in 2007 when Jetstar decided to launch a Kansai based air route. Thus, the Qantas Group succeeded in replacing the traditional airline service with LCC without causing an overlap of air routes and consequently improving operating performance. The group was also successful in eliminating the anxiety about safety of LCC in Japan market by highlighting the image of Qantas group's safe air operation.
The Qantas Group has realized the dual-brand system under which the LCC segment dedicates to the leisure market, while the legacy segment concentrates in the premium market: business travelers and millage club members. One of the characteristics of this case is that Jetstar was not established by Qantas Airways, which is now its parent company. "Impulse Airlines", the predecessor to Jetstar used be a start up venture and was acquired by Qantas Airways in 2001. Since then Jetstar has taken advantage of Qantas's basic infrastructure such as capital, fleet and trust by customers in order to achieve the growth and development while ensuring its independence.
Why did other major 'legacy' airline groups fail in entering into the LCC market?
We have seen a number of cases that traditional major airlines set up the LCC as a group company in order to reduce the operation costs. Most of them failed in the operation of the 'in-house' LCC business. The failure was caused by insufficient implementation of the strategy intrinsic in LCC such as:
accepting a large number of employees from the legacy carrier, who stuck to the traditional way in sales & marketing, booking & ticketing and airport operation
unsuccessful cost reduction by partly adopting legacy carrier's traditional operation into the LCC operation
Temporally transferred employees from major airlines could not get over their own successful experience only to prevent LCC business model from working well. Recently a Japanese major airline suffering from business slump has drastically cut jobs, which is still a fresh memory in our minds. If the company foists surplus workforce on its LCC in order to further streamline the business, the LCC may not operate smoothly.
Views of LCC heads
In this respect, Tony Fernandes, CEO of Air Asia, which has achieved success in Asia region, says that the biggest asset of the company is human resources. He emphasizes the importance of Air Asia's corporate culture to differentiate itself from that of traditional airlines. Masaru Kataoka, Regional General Manager Japan at Jetstar Airways said in the magazine interview that all things that the LCC got from Qantas are operation safety, maintenance and crew training. He added that there are few personnel exchanges with Qantas in such a form as temporary transfer. Shinichi Inoue, CEO of Peach Aviation commented that many employees from ANA are not temporally transferred but permanently work for Peach Aviation because they quit ANA to be on the regular payroll of Peach Aviation and that he would like to create a new corporate culture for airline in collaboration with workers who have experiences in different industries as well as non Japanese workers.
Leadership to maintain the independence of LCC and complete implementation of LCC business model
In the past, ANA and JAL tried to meet the demand of all types of passengers with a single traditional approach of airline business. Launching the new business, they are now going to concentrate their management resources on specific market segments. They are also seeking to realize the efficient management and the market adaptation simultaneously. To this end, it is essential to put aside empirical rules of traditional airlines in order to operate the LCC, a new aviation business model and to differentiate its playing field from that of legacy carriers.