Open Factory welcoming 25,000 people annually
Royal Horticultural Society organizes Chelsea Flower Show every year in May, exhibiting gardens from the entire world and attracting 150.000 people. The only Japanese company participating since 2010 is Suwada from Sanjo city in Niigata Prefecture. Bonsai is getting more popular and since several years it became a world fashion.This year bonsai scissors sells recorded best results since first participation.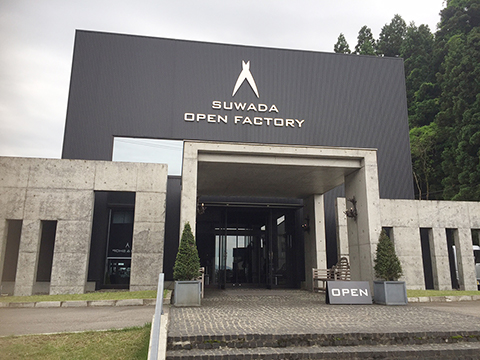 Suwada was founded in 1926, three years after Kanto Great Earthquake. To help habitations reconstruction, first product was end nipper tool, believing it will contribute increasing carpenters' work. That was the beginning of industrial fabrication. Using traditional Japanese fabrication methods combined with tool specificity, in 1995 company started fabrication of chestnut peeled scissors, nail scissors, flower scissors and many other new products. 'Suwada Nail Nipper Classic' is recognized as exclusive product with high quality and design, a unit cost starting from ¥7,000. Recently, it became also a hit product in France, country of esthetic and fashion. Once in hands, harmonious shape and design offer not only visual but also tactile pleasure, As same as esthetic beauty, cutting delicacy and precision are at 'Rendez-vous' of its primary purpose.
Suwada has selling points in London and Hong Kong but all products are made in Japanese factory in Sanjo city. The Headquarters and factory are in stylish building situated in the middle of peaceful countryside, accepting individual or group visits without reservation in 'Suwada Open Factory'. 25.000 visitors on annual bases come to see products exhibited by fabrication year in the gallery. Currently there is additional exhibition of bonsai and animals scrap sculptures which were presented at World Bonsai Exhibition in April 2017, giving an artistic touch to the space. In modernly designed building, instead of walls a big glass separate exhibition space and production area allowing visitors see craftsmen working with dedication on creation of each product.
Sanjo city is not a conventional tourist destination but in collaboration with neighboring Tsubame city, every autumn co-organize 'Tsubame Sanjo Factory Festival' allowing entrance into almost all factories, last year reaching 96. Both cities are famous as 'Craftsmen town' for metal construction utensil and western tableware. Since factories doors opened for visitors in 2013, offering possibility to experience fabrication by their own, visitors are increasing every year. Visitors will understand not only how each product is made but can also feel craftsmen's love for the product and the region they live; involving own know-how and passion, give to product the true value. Regional products are creating a new relation between people and we might say, create a new Region's presence.